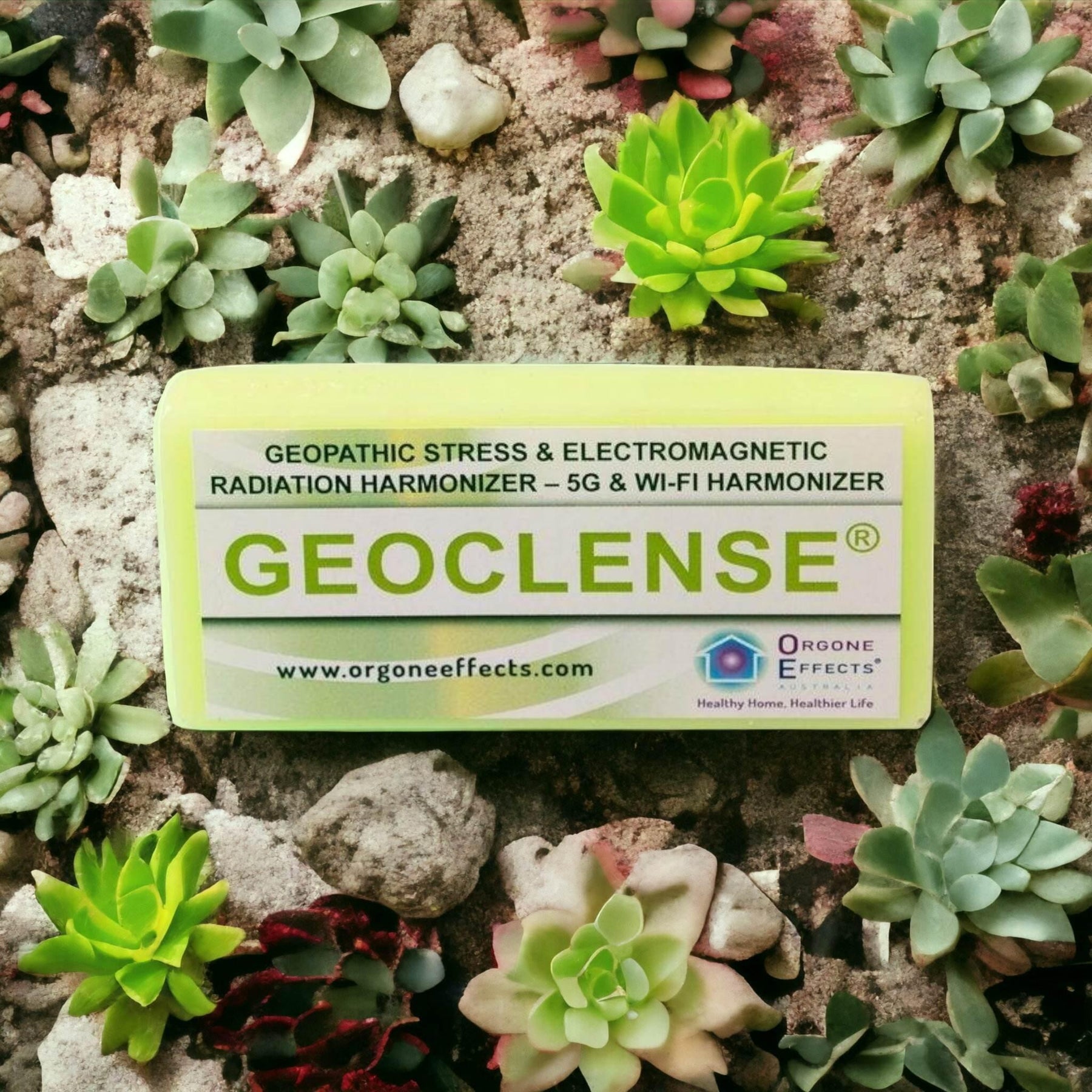 GeoClense: EMF and Earth Radiation Harmoniser
Electric bills are lower
Lower electric bills is the main thing I've noticed. That alone makes it worth it. When I run my AC all day, my bill can run around $120-150. I notice it's never more than $80 now, and without AC, as low as $30.
Did not believe this would help: I was WRONG!
Last year 2 really big 5g towers were put up to the north and south of us and I had no idea because I felt so nervous and sick that I could not leave the house! My daughter said maybe its the new towers affecting you, so I did some research and found orgone. I recieved my GeoClense about a week ago and the difference in my mood and health is night and day!! I went from thinking I was dying to walking 2 miles on my treadmill once again and feeling better than I have in a very long time! Thank You Orgone!!
GeoClense: EMF and Earth Radiation Harmoniser
GeoClense: EMF and Earth Radiation Harmoniser
Pleasantly surprised on the effective of Harmoniser.
I live in close vicinity to two 5G towers. First night the harmonizer was used, I noticed immediate relief from the headaches and sinus issues. I am so impressed that I ordered another.
Change the energy in your home and protect what matters most with our Geoclense®.
Reduce up to 85% of the effects of EMF radiation and Earth Radiation

Protect yourself from EMF radiation and power lines up to 200 feet away

Energize and rejuvenate all the water in your home

Remove dirty electricity from your home

Protect your home from 5G 
GeoClense is a harmoniser designed to reduce the effects of damaging EMF radiation and Earth radiation. It's designed to bring relaxation and improved health to the home while providing EMF protection.

With up to 85% reduction in EMF radiation levels, GeoClense is a great investment for a healthier lifestyle.

Description:
 Are you one of the many people who suffer needlessly from countless physical and mental health care concerns? Most people are simply unaware their health concerns are caused by exposure to electromagnetic frequency (EMF) radiation and/or are unsure how to address it. 
Unfortunately, EMFs are all around us. Technological advancements, while a great convenience, could be impacting your health. This is because many of the instruments used to make our life easier such as smart TVs, WiFi, smartwatches, and cellphones also emit EMFs. 

 
One of the most common EMF devices is the cell phone. With approximately  65% of the world's population currently using a cell phone,  we cannot escape EMF radiation.
However, with a Geoclense® we can protect ourselves. 












Features
How Does the Geoclense
®

Work?
The Geoclense Orgone Negative Ion Generator consistently generates healthy beneficial Negative ions that work by harmoniously neutralizing your entire property and home all the way to its boundaries, counteracting each one of these destructive energies such as radiation and electromagnetic frequencies.
Our Geoclense Neutralizes over 30 noxious EMR fields unique to buildings in the home and workplace.

 
The Geoclense® is a healthy, negative charge resonance field generator designed to balance the noxious, unhealthy positive charge resonance created by 5G and all forms of EMR, RF, Wi-Fi, Earth Radiation, and Bioplasmic Radiation.
The Geoclense Negative Ion Generator harmonizes and neutralizes all harmful EMF and EMR using Negative Ions for the following:
√  Electromagnetic radiation (EMR) and the Electromagnetic field (EMF) from power or electricity lines up to 200 meters away

√  Overhead Power Lines, Electricity Transforms and Electricity Substations

√  Underground Water Veins, Sewer lines, underground Black Water, Grey Water, and plumbing pipes

√  Energizers and rejuvenates all the water in the water tanks on your property

√  Harmful "dirty electricity" from the Electricity Grid and Solar Electricity Systems

√  Metal house frames and rooftops on your house

√  Metal bed frames, box springs, and metal springs in all mattresses

√  Highly noxious Smart Meters (monitoring whether you are home or not, as well as your electricity usage)

√  Fluorescent Lighting and the new compact fluorescent lights

√  Radiation from laptops, notebooks, desktop computers, and electronic devices

√  Fault Lines, Benker Grid Lines, Hartmann Lines, 400 Meter Grid Crossings, and Geopathic Stress

√  Microwave beams, Iridium Satellite Beams, Personal Beam imprints, Artificial Intelligence and Scalar Weaponry

√  Radiation from all Mobile Phones, Cell Phones, Cordless Phones, Hand Phones, Portable Phones, iPhones, BlackBerries, and iPads

√  Radiation from GSP Navigation systems and the harmful energy of Baby Monitors

√  HAARP, Contrails and Chemtrails

√  Wireless (WiFi) Internet modem emissions from computers, BlackBerries, iPhones, iPads, and Blue Tooth

√  Emotional Distress Imprints from previous occupants of buildings and vehicles

√  Death Imprints, Ectoplasm Imprints, Spirit Lines, Entity Attachments, and Ghost activity

√  Nuclear Radiation and Atomic Fallout

√  Highly harmful radiation from Digital Televisions whilst they are in use

√  All your neighbors' Digital Television radiation beams that point into your home

√  Digital Television 200 to 400-meter imprints are left every time they are turned off with lots of these imprints all over your property coming from your neighbors

√  Lilly Wave Frequencies used through television used for Mind Control and Tetra technology

√  Neutralizes Radio Frequencies and harmful electromagnetic frequencies from Mobile Phone and Cell Phone Towers

√  Extremely low frequencies (ELF), very low frequencies (VLF), and ultra-low frequencies (ULF)

√  Artificial heat and cooling, which produces a sickly Positive Ion resonance from unnatural heating, cooling, and reverse cycle air-conditioning

√  Removes Earth Magnetic Radiation from your vegetables in the garden and your fruit

√  Radio Frequencies and Wireless radiation from Q Caloric 5 internal heater meters in every room of an apartment block (Europe)

√  Mould, fungus, mildew, and rising damp

√  Radon radioactive gas and concrete in buildings and shopping centers

√  The energy of Mercury, Heavy Metals, and Candida from your Aura and energy fields

√  Increases the Oxygen in the air in your home, office, school, and workplace

√  Imprinting Counter-Conscious Thought Form Fields and Negative Thought Fields

√  Illness/Sickness Imprinting on any property

√  Cygnus Sickness Imprinting affecting the Northern Hemisphere

√  "Pointing The Bone" Aboriginal Curses

√  Psychic attack

√  Interference coming from other planets

√  Protection against solar radiation from sunspots and solar flares

√  Removes Earth Magnetic Radiation imprinting from your fruit and vegetables in the garden
What Happens After I Place my Order? 
Once we have received your order you will receive an email confirming your order and letting your know we are preparing your products for shipment.
Depending on where you live in the world, your products will either be shipped directly from our manufacturer in Australia or from our warehouse in New York.
Once your order has been shipped, you should receive a shipping confirmation email with a tracking number. From there you will be one step closer to EMF protection!


Certification
All our Orgone Energy EMF protection products produce a negative charge resonance, which is as close to nature as possible.  
This is vitally important because electromagnetic fields produce an unhealthy position charge which can have negative effects on your physical and mental health. 
Orgone Effects® products are made from our exclusive Orgonium® process and will last a lifetime.
Our full range of harmonizing products have been field-tested and proven to be effective, and are recommended and distributed worldwide by Accredited Health Professionals such as Kinesiologists, Bioresonance Practitioners, Naturopaths, and Chiropractors.  
Our Satisfaction Guarantee
As part of our refund policy, we offer a 100% satisfaction guarantee. If you are unhappy with any of our products, simply contact us and we will do whatever we can to help make it right.
Please contact us for assistance before sending your products back for a refund. Items that have been worn are not eligible to be sent back to us without our authorization. 
All of the Orgonium Orgone Products both Orgone Energy and Schumann Resonance Generators, and work by sending out Negative Ions!
At Orgone Energy we want you to love your products and feel confident with your order. If you are unhappy with your order for any reason, simply send it back in sellable condition* for a full refund.

*Personal items must be unworn in order to maintain proper hygiene.
At Orgone Energy we want you to love your products and feel confident with your order. If you are unhappy with your order for any reason, simply send it back in sellable condition* for a full refund.

*Personal items must be unworn in order to maintain proper hygiene.
Our Orgone Energy line is shipped to our North American customers from our New York Warehouse and Worldwide directly from Australia.
Our Orgone Energy line is shipped to our North American customers from our New York Warehouse and Worldwide directly from Australia.