Mobile phones and EMF radiation, the phenomena of this duo are hardly unknown to health-conscious people today.
But what most of them surprisingly ignore is the fact that there are worse producers of this harmful radioactivity near their homes. The hair dryer is one of the few household appliances that have a higher electromagnetic radiation rate than your mobile phone.
It is best to limit exposure as much as possible to minimize the risk of potentially detrimental effects of EMF radiation by purchasing an EMF neutralizing device. For instance, the Geoclense has been specially programmed to neutralize up to 30 different types of EMF, Bioplasmic Radiation, and Earth Radiation. The Geoclense works like a salt lamp and creates a "small" harmonized field around the lamp with a negative charge. However, Geoclense is effective throughout the home and on property boundaries, and in some cases.
Alternatively, low radiation hair dryers have now become a healthier alternative to conventional hair dryers. That's why we've come up with this article to bring you the best low-EMF hair dryers out there so you can find the best possible solution.
What Does a Low EMF Hair Dryer Mean?
EMF stands for electromagnetic field, and it is generated by all kinds of electrical appliances. Electromagnetic fields are divided into three types: electric field, magnetic field, and radiofrequency. Radiofrequency radiation is what you are exposed to when data is transmitted wirelessly from devices like your Wi-Fi router or cell phone. Conventional hair dryers give off a different type of EMF known as magnetic field radiation. You may be surprised to find that some hair dryers can give off very large amounts of this electromagnetic radiation in proximity to the head, which can have potentially harmful health consequences.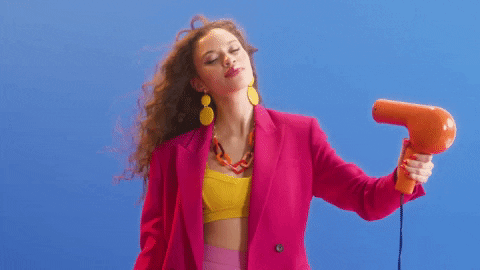 Low EMF hair dryers generate a significantly small amount of EMF radiation. This is due to the new technology in the hair dryer motor. Low EMF hair dryers are not only better for your hair but also your health. Known symptoms of high emissions of electromagnetic fields include fatigue, nausea, depression, anxiety, headache, increased risk of immune disorders, and increased risk of cancer.
What to Look for When Buying a Low EMF Hair Dryer?
When shopping for the best low-EMF hair dryer, consider the following factors:
Ionic Technology
Ionic technology relies on negative ions to break down the water molecules on the surface of your hair. It allows your hair to easily absorb small molecules of water to stay hydrated.
Diffuser
The low EMF hair dryer models that are equipped with a diffuser help to disperse the heat throughout the hair and facilitate the shaping of the curls.
Tourmaline Ceramic Technology
Ceramic mesh-covered hair dryers generate infrared heat that dries the hair without damaging it. Additionally, tourmaline technology ensures that no static electricity is generated when blowing the hair, reducing frizz.
Heating Settings
The heat settings allow users to adjust the amount of heat the dryer emits. Modern hair dryers have 2 to 3 heating levels with which you can select the level of heat that the dryer emits.
Speed
​​
Setting
By adjusting the speed of your hair dryer, you can control the level of airflow.
Power
Before purchasing your hair dryer, check the total wattage and the power outlet. If the hair dryer has high wattage, it can cause overheating and short-circuiting.
Material
The material that is used in the manufacture of the hair dryer is very important as well. The best low EMF hair dryer should be crafted of sturdy material. Also, it should have a ceramic coating to prevent breakage.
Cold Release Button
A blow dryer with a cold release button allows you to lock your hairstyle after styling. So if you can't wait to style your hair, you should look for a hair dryer with a cold release button.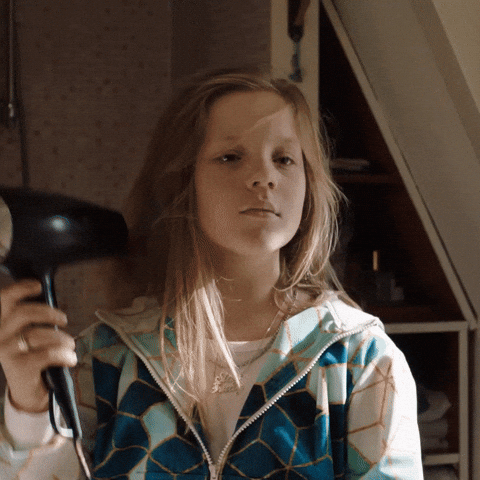 Best Low EMF Hair Dryers
The Shield Life Beauty Company is dedicated to the manufacture of "Radiation-Guard" home products. With the goal of an EMF-free environment, their EMFreedom hair dryer is another product that promises to offer professional blow-drying sessions with no risk. The hair dryer tops our list of the best low EMF hair dryer with an average EMF emission of just 0.9 mG, the lowest on the market yet. With such a uniform emission rate, it reduces the risk of potential health hazards from electromagnetic radiation more than the rest on this list.
That said, it doesn't matter if you are a professional or a regular home user, you can protect yourself from health issues by bringing the device closer to your head. In addition, it is the best unit for those who are looking for the safest hairdryer for their elementary school children. The device is powered by a powerful 1800W AC motor. While alternating current helps to weaken radiation levels as it constantly changes direction, the precise power level helps maintain the ideal airflow required for a more efficient and faster blow-drying session. It has proprietary negative ion spring technology to maximize your hair strands the moisture retention capacity. In addition, this technology adds to the overall reduction of electromagnetic fields, which is the top priority.
Well, the quality of the electromagnetic field degradation on this hair dryer doesn't end there. The company's proprietary EMF shielding technology also includes a copper barrier inside that absorbs about 75 percent of the radiation to help fuel the EMF reduction process. If you are seriously concerned about your safety and your child's safety, the Shield Life EMFreedom hair dryer is the best for you. With its ergonomic design, innovative technologies, and the right drying mechanism, the hair dryer offers a complete drying experience that every hair care enthusiast dreams of.
Dyson Supersonic Hair Dryer
Known for making electrical automotive, electric purifiers, and vacuum cleaners, Dyson is completely new to the hair tool industry. Their recently developed supersonic hair dryer has caught the attention of styling professionals with its superb capabilities and unique technologies. In terms of EMF emissions, however, the hairdryer lags slightly behind the winner on our list, as the copper shielding and the relatively lower emission level put the EMFreedom ahead of the rest. Plus, the outrageous price tag may even put some potential buyers off. The hair dryer gives off an average of 1 mG, so you can use it from any of your favorite positions without worrying about health issues.
The Dyson Supersonic has a 1600 watts digital motor that is designed for very low levels of radioactivity while keeping airflow within a reasonable range. The intelligently developed mechanism has the proprietary Air Multiplier technology, which creates a jet of air at high speed. It speeds ​​up your drying sessions with maximum styling precision. The device offers an optimal reduction in static electricity and protection against heat damage through the generation of negative ions and infrared heating, which also helps to keep the EMF emission rate low. This high-performance unit provides a comfortable fit with magnetic attachments. The ergonomic and lightweight design makes this low EMF hair dryer the ideal option for salon professionals.
CHI Professional Low EMF Hair Dryer
If you are concerned about the price of the Dyson and cannot afford EMFreedom either, you should consider this option from CHI. It is available at a relatively cheaper price with a sufficiently flat electromagnetic field radiation rate. The hair dryer gives off an average of 1.5 mG ​​of EMF radiation, slightly more than the two previous models we discussed above. But it falls within the EPA recommended range, so you can certainly select it. This unit is powered by a 1500W AC motor, which is slightly less powerful than our two top-of-the-line models. So you may not get the exact amount of airflow that these two provide. But just because it successfully checks the emission rate, you don't have to worry about EMF emission issues.
The CHI Pro Low EMF Hair Dryer is a professional quality hair dryer that also features a ceramic infrared heating mechanism that allows for gentle, damage-free drying sessions. Plus, an extended ion generation feature adds to its benefits with support for EMF blocking and professional finishing. If you are on a budget but don't want to compromise on radiation issues, this CHI Pro hair dryer is definitely worth considering.
Elchim 3900 Healthy Ionic Hair Dryer
Elchim, an Italian company, has been manufacturing high-quality hair care products for over 70 years. The Elchim 3900 Healthy Ionic Hair Dryer is a salon-grade hair dryer that is said to have low EMF emissions. Although it emits relatively low levels of radiation (3.2 mG) than many other models on the market today, it is not low enough to enter the safe range. Therefore, when you use it, you need to take special care to keep it at a safe distance from your head. And that must be a bit of a pain, as it will prevent the airflow from properly reaching the strands of hair.
The unit has a powerful 2400W AC motor that creates massive airflow to make the process a little less intimidating. But the following also applies here: the stronger the airflow, the stronger the emission level. To use it safely, you have to keep the airflow at the lowest level each time and therefore compromise with the extended duration. Regardless of these sticking points, the Elchim 3900 Healthy Ionic Hair Dryer is a quality model that can produce excellent salon-quality results. We recommend you choose this device only if you do not use a hair dryer frequently or if you can handle these maneuvering problems.
Barbar ECO8000 Blow Dryer
The Barbar ECO8000 Blow Dryer gives off an average of 4.1mG of EMF radiation, more than any of the previous models we have discussed so far. If you are concerned about all these harmful effects of radioactivity, this may be the only factor preventing you from purchasing this unit. After all, why should you sacrifice your comfortable movements without getting the right amount of airflow from a distance? Yes, this problem is made even more convincing because the device runs on a weak 1100W motor. So you can't expect enough heat flow for a good drying session.
Noise could be another reason why this device may not be the best choice for you. The dryer becomes very noisy after a few minutes of use. Also, the blow dryer costs almost a hundred and fifty dollars, which is certainly not worth it because it does not protect you from electromagnetic fields and does not provide an ideal drying experience close enough.
Do all Hair Dryers Emit EMF Radiation?
Hair dryers give off large amounts of EMF radiation from their electric motors. Because the dryer is held in proximity to your head, you will be exposed to electromagnetic radiation. As you use it more often, this is something to keep in mind. Even a short exposure time can add to your EMF radiation dose. Like other electrical appliances, hair dryers give off low amounts of electrical fields and a high amount of magnetic fields. However, the type and amount of radiation emitted depend on the built-in functions.
Conventional hair dryers emit large amounts of magnetic fields. This high level of electromagnetic radiation can affect your immune system. Emissions from these and other electronic devices are linked to brain tumors, DNA cell damage, and increased cancer risk, among other health problems. To minimize your exposure to magnetic fields, you can purchase a low EMF hair dryer. A low EMF hair dryer has a motor that uses built-in technology to give off only small amounts of EMFs. The amount of radiation given off by these hair dryers is relatively harmless.
How Much EMF Do Hair Dryers Emit?
According to LIPA (Long Island Power Authority), which conducted a study of the amount of magnetic field radiation emitted by various devices, hair dryers give off electromagnetic radiation at the following distances in the following amounts:
1-inch distance: 60 mG to 200 mG (MilliGauss)

1 foot distance: 0.1 mG to 1.5 mG

3 feet distance: <0. 1 mG
These radiation levels are for your standard electric hair dryers. However, these levels can be much higher if the device is placed very close to an EMF meter. Some people have what is known as electromagnetic hypersensitivity (EHS) and are likely to have health problems and real physical symptoms from prolonged exposure to electromagnetic radiation. However, most of us are fortunate enough not to have EHS, but that doesn't mean we are any safer.
How to Reduce Your Exposure
The most important step you can take to reduce your exposure is to keep your distance. As you can see from the points above, the further away it is, the more the magnetic field radiation emitted by a hairdryer is greatly reduced. This is because of the so-called inverse square law of physics. In essence, this law states that if we increase our distance from a radiation source, we decrease our exposure to a radiation source. One of the best things we can do to reduce our exposure is to move away from the source of electromagnetic radiation. Hence, when using your hairdryer, try to hold it a few inches further from your head than you normally would. This will significantly reduce your exposure.
Another smart way to reduce exposure is to towel dry your hair first. This helps to remove a significant amount of moisture and reduce the overall drying time of the hair dryer, reducing the amount of time it spends near your head. Beyond that, you can use EMF harmonizing products for all home appliances. At Orgone Energy, we have plug-and-play devices that are effective at absorbing radiation and creating a safer environment. The GeoClense EMF Harmonizer is worth mentioning here.
Wrapping Up
From our extensive discussion, we can infer that the best low EMF hair dryer can be of significant benefit in defending ourselves against the harmful effects of EMF radiation. Yes, the risk may not be the same for everyone. But investing in a low EMF hair dryer can be the smartest investment if you are not the type to compromise on health. Hopefully, our recommendations above are useful enough to help you choose the ideal solution with the best EMF protection.
Beyond the best low EMF hair dryers, it is possible to also protect you and your loved ones from the possible harmful effects of EMF radiation by investing in an EMF neutralizing device such as the GeoClense EMF Harmonizer.
The Geoclense is a healthy, negative charge resonance field generator designed to offset the unhealthy and harmful positive charge resonance created by 5G and all forms of Wi-Fi, RF, EMR, Bioplasmic Radiation and Earth Radiation. Geoclense Resin Block is an artificial smart crystal formula that has been infused many times to create a healthy "negative charge".
This negative charge frequency is carried by the electrical wiring to appliances that create EMF which all have a positive charge; the harmful component of ANY radiation field. The negative charge from the Geoclense "harmonizes" or "neutralizes" the positive charge, thus making ALL EMF fields no longer harmful to the human meridian system, bio-field and organs.