The quality of your sleep is very important for healthy well-being, so it is important to make your bedroom a radiation-free zone.
EMF devices, such as electric alarm clocks, give off certain amounts of electromagnetic radiation at close proximity to your head, which affects the quality of your sleep. Since alarm clocks are indispensable for most people, investing in a low EMF alarm clock to minimize exposure to radiation is a smart idea. In this article, you'll learn about electromagnetic radiation from alarm clocks and our recommended low EMF alarm clocks to purchase for your home.
We want to quickly say that if you are concerned about electromagnetic radiation, take a moment to go through our range of products that offer protection from EMF-emitting devices, such as alarm clocks and other home appliances. For instance, the Orgone Bamboo Blanket allows you to wrap yourself in protection as it is imbued with octaves of frequency that create and bring to life a strong resonance of negative ions that are used for energy healing or orgone therapy, making them the best natural sleep aids for the body.
How EMF Radiation from Alarm Clocks Affect Our Sleep
Electromagnetic radiation causes various harmful health problems due to prolonged exposure, but we want to talk about how it mostly affects our sleep. A recent study found one of the main reasons why EMF radiation emitted by something like an alarm clock near the head affects our sleep.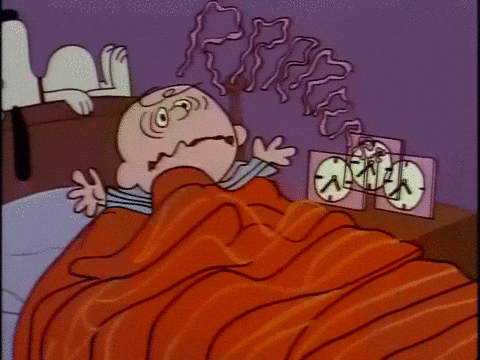 The University's Faculty of Electrical and Electronics Engineering has studied how the body is affected by EMF radiation while sleeping.
The study showed that electromagnetic radiation inhibits the body's ability to adequately produce melatonin, which, as you probably know, is our body's own hormone that regulates sleep.
This is because the pineal gland, where melatonin is made, interprets the radiation as light and does not let you sleep. Because of this, the electromagnetic radiation emanating from something as simple as an alarm clock can always affect the quality of our sleep. When our sleep quality is impaired, along with the electromagnetic radiation absorbed by our body, the following symptoms are sometimes produced:
Skin irritation

Headaches

Memory problems

Fatigue

Moodiness
If you wake up with any of these symptoms and cannot identify other problems they could be causing them, you need to make sure that the amount of EMF radiation in your room is reduced.
For this, we would suggest you purchase an EMF harmonizer, as well as ensuring that you aren't sleeping near your cell phone and also keep devices that generate electromagnetic fields, such as alarm clocks, away.
Battery Operated Or Plugged In – Which Alarm Clock Emits Lower EMF Radiation?
This question is difficult to answer as there is little information about the exact output of electromagnetic radiation from various alarm clocks. From experience and from information available online, it seems that battery-operated alarm clocks give off slightly less radiation than plugged in alarm clocks.
Both types of alarm clock give off about 10 mG of radiation from 3 to 5 feet away. Remember, the inverse square law of physics tells us that if we double our distance from a radiation source, we will decrease our exposure. Put simply, proximity to radiation sources is one of the main factors contributing to harmfulness.
If you don't want to give up your current alarm clock, at least set it across the room. First of all, it reduces most of the radiation you are exposed to, but it also helps you wake up since you have to walk across the room to turn it off!
Note: Remember, sleeping close to your mobile phone is MUCH worse than sleeping close to your alarm clock. So be sure to invest in an EMF protection product like GeoClense EMF and Earth Radiation harmonizer to help keep your bedroom a safe place to sleep.
The GeoClense EMF and Earth Radiation Harmonizer. It consistently generates healthy and beneficial negative ions that work harmoniously neutralizing your entire property and home all the way to its boundaries, counteracting each one of these destructive energies such as radiation, electromagnetic frequencies, and radio frequency
Best Low EMF Alarm Clocks
There are several EMF alarm clocks that give off little or no EMF radiation. Below are some of our recommended EMF-free alarm clocks on the market.
Sonic Bomb Extra-loud Alarm Clock
Sonic Bomb Extra-loud is another great low EMF alarm clock on the market. It's been in use since the 1980s and is also one of the loudest alarm clocks that have a bed shaker as well. It is particularly useful for those who sleep a lot or are completely or partially deaf. It is very loud and has flashing red lights to make sure you wake up on time. With this low EMF alarm clock, you can set several alarm clocks with a time interval between 1 and 59 minutes. Also, you can set the snooze interval between 1 and 30 minutes.
You can easily set the alarm clock employing a 12 or 24-hour format. You can monitor and set multiple alarms with labeled buttons and switches. You can also easily adjust the volume and tone of this extra loud 113 dB alarm clock. It comes with a 12V bed shaker that can be placed under your mattress or pillow to wake you up without waking others up. This device comes with a backup battery to provide enough security to wake you up on time. Also, it has full dimming controls that allow you to adjust the clock's brightness and make sure you wake up refreshed.
Pros
Flashlights

Extra loud

Multiple alarms

Bed shaker
Cons
You can only set the same mode for the two available alarm options
Square Edge Low EMF Digital Alarm Clock
The Low EMF Alarm Clock from Square Edge is a battery operated alarm clock with low radiation. The unit is tested for EMF radiation and the levels will decrease if it is placed away from your bed. A few centimeters away, the emitted level drops significantly. It has intelligent lighting control with an integrated sensor that automatically adjusts the background lighting to the darkness of the room. This saves you a lot of battery consumption. You can also turn this feature off if you don't want the backlight to interrupt your sleep.
Any sleep disruption can affect your body's melatonin production. This is why the low-EMF digital alarm clock has a switch for the backlight that you can use to turn off the light. A snooze light button on the top of the alarm clock creates beautiful white lighting when pressed. It's easy to use too. Also, this digital alarm clock displays a calendar and the temperature in your room. This unit uses the 12 and 24 hour time formats. The body tends to repair itself at night while you sleep, and this digital alarm clock has been tested to make sure it emits no to low levels of electromagnetic radiation when placed on the bedside table.
Pros
Low exposure to EMF

Automatic adjustment of the backlight

Integrated sensor

Easy to use
Cons
Braun Classic Analog Alarm Clock
The Braun Classic Analog Alarm Clock makes a soft beep and when it gets louder, it makes a crescendo sound to calm your morning wake-up routine. This analog alarm clock gives off little or no EMF radiation. It features a contemporary design and high-quality materials. It does not give off radiation or blue light, but creates very little magnetic energy that has no effect when placed 3 inches away.
The Braun Classic Analog Alarm Clock has a built-in foot repeat function that snoozes for a 5-minute interval while the display light stays on for 5 seconds. Also, it has luminous hands and a yellow second hand. This battery operated alarm clock is non-ticking. The low EMF alarm clock guarantees a good night's sleep. You can turn off all other digital devices in your room. You can also charge your phone in another room, so your room is radiation free and you can have sweet dreams.
Pros
Crescendo audible alarm

Luminous hands

Snooze function
Cons
The arms only rotate clockwise, which is inconvenient when you reset the alarm

Relatively expensive
A mechanical alarm clock with a wind-up function does not require electricity or batteries. It's easy to set your alarm clock and clear the previously set alarm clock with a gradual interval ringtone. This device has luminescent markers and pointers that make it easy to read in a dark or gloomy environment. An ambient light sensor lights up the face of the alarm clock in the dark.
This mechanical wind-up alarm clock has a sleek and elegant design with some modern touches that will make your room look classy. It also has a big screen and makes a loud sound. It has a simple switch that makes it easy to set the clock. The soft sound of ticking does not have much of an effect on you, but if you can't stand ticking, this model is not for you. If you are on a budget, this type of alarm clock may be your choice. It is quite accurate and works as expected.
Pros
Large screen

Easy to read in the dark

Easy to set the alarm clock
Cons
Soft ticking sound

Manual winding every night
RCA Digital Alarm Clock
The RCA Digital Alarm Clock is another affordable low-EMF alarm clock on the market. It has a 0.7 inch LED screen and a night light that allows users to turn it off so as not to disturb sleep at night. This unit allows users to set a single alarm and has a large snooze button. It's simple and easy to use, so you need not worry about getting up late. It also comes with a battery backup that ensures you wake up on time. The snooze button works as a low-intensity light suitable for lighting a dark room, and you can turn it on and off easily when needed.
Pros
Multiple snooze options

Easy to use control buttons

Reasonably priced

Battery backup
Cons
Small size

Can only set a single alarm
Final Thoughts on Low EMF Alarm Clocks
If you want to feel completely rested and refreshed after sleeping at night, consider investing in an EMF-free alarm clock for your room. You should also turn off or remove all other electronic devices from your bedroom. Low EMF alarm clocks ensure your room is radiation-free. The alarm clocks listed above are some of the best low EMF alarm clocks available today. This makes it easy for you to choose the right one for you and your family, based on your needs and budget.
Apart from investing in a low EMF alarm clock, you can also purchase an EMF protection product such as the GeoClense EMF and Earth Radiation Harmonizer or the Orgone Bamboo Blanket. 
Using an Orgone Bamboo Blanket is one of the most effective and easiest solutions to protect your bedroom from dangerous radiation given off by your alarm clock as well as other EMF emitting devices. Orgone blankets are infused with octaves of frequencies which create and bring into being a powerful negative ion resonance used for energy healing or orgone therapy.
These protective bamboo blankets comprise only one solitary level and are produced from fast-growing ecologically friendly bamboo, which is a completely renewable and eco-friendly resource, making them extremely portable, light, and washable. Protecting yourself with these orgone blankets is one of the most effective ways to protect your home from harmful EMF radiation. 
The GeoClense EMF and Earth Radiation Harmonizer is another product that can protect your bedroom from radiation emitted by alarm clocks.
It consistently generates healthy and beneficial negative ions that work harmoniously neutralizing your entire property and home to its boundaries, counteracting each one of these destructive energies such as radiation and electromagnetic frequencies.